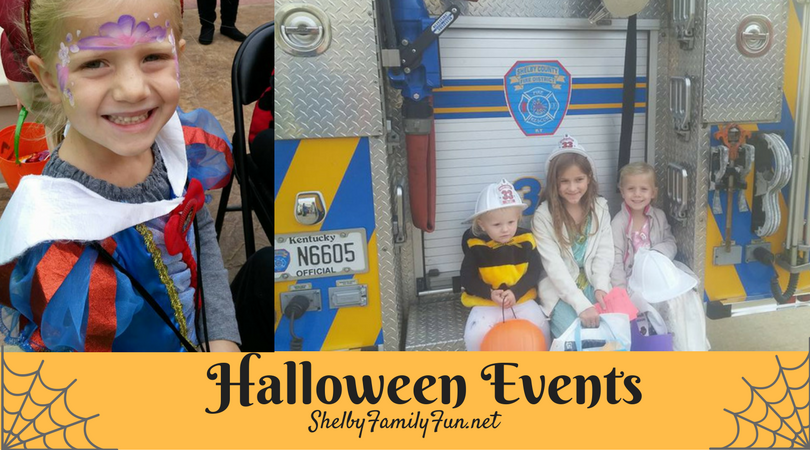 Halloween is a fun time for children and parents!
Here is a list of some Shelby County Halloween events for families.
Light the Night Corn Maze
October 20 & 28, 6:30-8:30
Mulberry Orchard
$5 per person, free for children ages 5 and under.
One adult per five youth required for supervision.
Trunk or Treat Under the Sea
Shelby Christian Church
October 25 6-8pm in their parking lot
Trunk or Treat at Shelbyville First Baptist
October 25 6:30-8:30pm
Halloween Walk with the Animals
Salato Wildlife Center (Frankfort)
October 28, 1- 5 pm
Halloween Harvest Festival at Outlet Shoppes of the Bluegrass
October 28, 3pm
For children 12 and under, accompanied by a supervising adult. Enjoy face painting, balloon art, games, photo op & more! While supplies last.
October 27, evening
JCTC Shelby Campus is inviting folks out for a
Halloween event
. It's on October 27 from 5-7pm. We checking in to see if it's inside or outside. When they message us back, we will let you know!
Black Orchard Haunted House at Red Orchard Park
Various dates and times.
Don't forget to check out our list of Fall Festivals around Shelby County!
We know there's lots more fun Halloween events that will be added as we get closer to Halloween! If you know of any other Halloween themed events in Shelby County, please email stephanie@louisvillefamilyfun.net and we will gladly update our list! Thanks!
Places that held Halloween events last year that may or may not have an event again this year. We will update with more info when we learn more details:
Village Plaza's Annual Safe Trick or Treat
Trick or Treating at The Outlet Shoppes of the Bluegrass
Annual Trunk or Treat at Martinrea
Halloween Party at Shelby County Fire Dept.
Trick or treat, goodies, refreshments, fire safety info, spray a real fire hose, and more!
Trick or Treat Trail at Red Orchard Park
Froggy's Safe Trick or Treat Street at 6th & Main
Howl-O-Ween Party at Tyson's Chance
Shelbyville Country Club (21+, costumes optional, $10 at the door)
Centenary United Methodist Trunk or Treat
Games, food, trick or treating
Love Your Neighbor Event
Shelby Christian