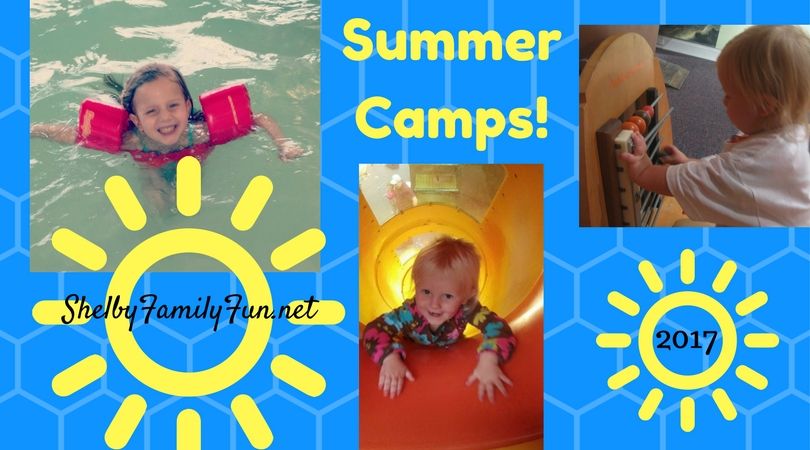 This is a partially sponsored post.
Penelope's Pottery Painting
Penelope's Pottery Painting is a new paint your own pottery business located at the Blue Gables Shopping Center in Shelbyville!
During their Summer camp, children (designed for ages 8-14) will combine their love of literacy with their love of art and meet the Masters at Penelope's Pottery Painting. Each day students will study a Master artist such as Van Gogh, Cezanne, or Degas. They will create an art project based on that artist's style. Each day they will paint a ceramic representing that artists. At the end of the week, they will use their tiles to create a "quilt" of the Master's to hang on the wall.
Week 1 (6/12-6/23) Mornings only 9-12
Week 2 (6/19-6/23) Van Gogh, Degas, Picasso, Monet
Week 3 (6/26-6/30) Cezanne, DaVinci, Chagall, Matisse
Week 4 (7/10-7/14) Van Gogh, Degas, Picasso, Monet
Week 5 (7/17-7/21) Cezanne, DaVinci, Chagall, Matisse
$225 Full Week Camp
Monday through Friday 9am-3pm (Lunch Provided)
Or just come for a day for $99
Like them on
Facebook
to stay updated on their grand opening and other fun events (they do parties, showers, and more)!
Parklands
Get Outside at The Parklands of Floyds Fork! Campers in grades K-6 spend their days participating in discovery-based field experiences and science investigations into gardening, art, paddling, hiking, biking, biology and bugs! Keep your student engaged and entertained while school is out for the summer.
Get Outside! Science Camps are based in Beckley Creek Park and the PNC Achievement Center for Education and Interpretation. Drop-off locations may vary for Paddling and Adventure camps. These full day programs include hands-on classroom activities, field hikes, "Sprayground Wednesdays," and so much more!
The Parklands Summer Science Camps take place over eight weeks from June through August. Each week includes one camp for campers entering K-3 and one for 4-6 graders. Save when you register by May 5! Parklands Members receive a reduced tuition rate.
www.theparklands.org/camps
502-584- 0350
outdoorclassroom@21cparks.org
Camp invention
Imaginations get their rocket fuel at Camp Invention! An exciting, weeklong summer adventure awaits with activities that explore connections between science, technology, engineering and innovation and sharpen their 21st century skills. A program of the National Inventors Hall of Fame, Camp Invention allows children in kindergarten through 6th grade to experience real-world problem solving, creative thinking, invention, and teamwork. Children work together to transform the terrain and ecosystem of a distant exoplanet. They take risks as budding business owners, blast rockets, air cannons, and rubber chickens, and wire a circuit to create their own Spy Gadget Alarm Box! Local, certified educators lead a week of hands-on activities that fuel children's confidence in their natural ability to dream and create. Early registration discounts are available so don't miss out on this exciting opportunity. Visit
campinvention.org
or call
800.968.4332
for information. Use promo code INNOVATE25 by 3/20 to save $25 on registration.
Steampunks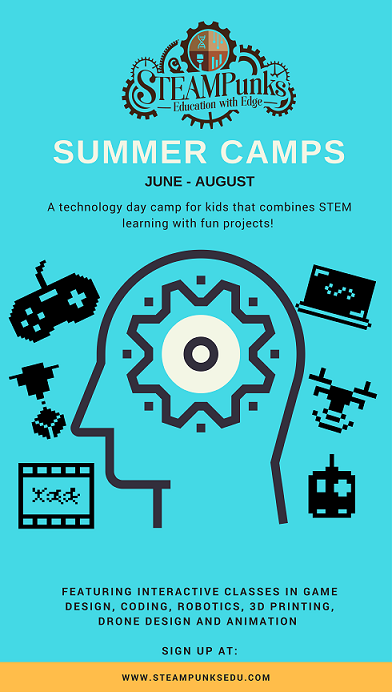 Give your child's summer break a dose of STEAM (Science Technology Engineering Arts Math) powered fun and learning in a STEAMPunks Summer Camp! These week-long day camps blend project based learning environments, hands on exploration and cutting edge technology to teach exciting subjects like Video Game Design, Circuitry and Soldering, 3D Printing, Robotics, Coding and more! Every camper will learn invaluable STEAM skills, a crucial factor in the ever expanding career fields of the future, and leave camp with a tangible project to encourage lifelong tinkering and creativity. With seasoned instructors and an arsenal of collaborative projects and fun curriculum, a STEAMPunks Summer Camp means your child's brain stays engaged in the educational "off season" and they're primed for the best summer experience of their life. Register here now! What will your child make at STEAMPunks Summer Camp? Venues TBD. Schedule will be posted by mid March!
Bright horizons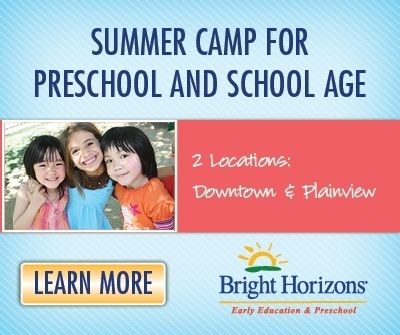 Fun, friendships, and exploration – all summer long!
Bright Horizons summer camp
for preschool and school-aged children offers fun and excitement for your child AND meets your expectations of convenience, flexibility, a healthy and safe environment, and experienced counselors.
Your child will enjoy a jam packed summer that includes: · Field trips, special guests, and events Cool themes including STEM, ecology, art, cinematography, cooking, theater, and more · Sports, fitness, and outdoor adventures Call us today to learn more! Our camps follow the local public school calendar and run throughout the entire summer vacation time period.
Whet Your Palette
This summer we invite you to join us on an artistic adventure as we explore some of our favorite things in new and exciting ways! Back by popular demand, our popular Messy Camp, Star Wars and Fairy Art Camps are all back! We'll be creating things that glow... Lightsabers, stone fairy houses, wands, tiny fairies. Our witches and wizards, in Harry Potter camp will create handmade wands and potions! Also this year, My Little Pony, Animals, Just Paint!, Boxes & Bowls, Oils, Sculpture, Large Mixed Media and more. Our fun and talented staff will guide your young ones to discover their inner artist at our Art House.
Three age groups including TEENS. Class sizes LIMITED!
AGES: 4-16
WHEN: 12 camps weekly through summer beginning May 29. M-F: 8-10:30,
11am-2pm & 2:30-5. (Full day & late pickup options.)
COST: $95-$225 per camp
WhetYourPalette.com
•
WYPalette@gmail.com
•
502.438.8865
Snapology
Bring STEM to life using LEGO® bricks, technology and other engaging tools! Snapology provides a fun and safe environment for children ages 4-14 to learn about robotics, programming, animation, engineering, video game design, science and more.
For summer 2017, we are offering over 30 camps at three different locations: St. Matthews Community Center, Sayers Classical Academy and First Baptist Church of Middletown. ***Register early and save.***
Please visit
https://louisville-ne.snapology.com/camps/
to see what we have planned!
Classic melodies
Our Musical Theatre camps are the perfect combination of a traditional camp experience with all of the activities mixed in with fun and excitement in singing, dancing and acting. CMPI Young Performers-Elementary ages. July 17th-21st. 9-3p.m. A broadway themed show will be performed at the end of the week for parents. This is great for girls and boys. Experience the magic of Broadway in a fun learning environment with top professionals in the industry. Students will love our daily activities too. Water day, Movie day, and so MUCH MORE!! Students may bring their own lunch. We will provide a themed snack daily. Register on our website
Classicmelodies.org
.
St. Luke's Camp Maple
Welcome to
St. Luke's Camp Maple
, where you will have
fun
in the company of friends old and new. All camps include hands on learning,
fun
outdoor activities, and free play time.
Our camp is staffed with the same high quality teachers who work in our preschool program. All are experienced teachers who are CPR and First Aid certified.
Camps run
Monday
-
Friday
from
9am-1:30pm
for children ages 2-10. Each camp is theme based so one week is different than the next. We look forward to you joining us for one or all six
fun
and exciting camps.
May 22-May 26
Discover your Favorite Artist
June 19-23
Explore the World of Science
July 17-21
Build with Bricks
Other camps in the area (Shelby County):
Kaleidoscopes
Shelbyville Parks and Recreation
Simpsonville Parks and Recreation
Cornerstone Christian Academy
Gogh Crazy
Shelby County Community Theatre
Discovery Gym
Looking for overnight camp ideas? Click
here
!
Check out this huge list of
Louisville camps
!
If you would like to advertise on this post, please email kimberly@louisvillefamilyfun.net. Thank you!
Read More »